I picked up a flyer a while back and decided to find out more in a group setting.
Clutter Club is a fun, safe environment in which we can all share the trials & tribulations we are experiencing with regard to the clutter in our lives and minds.
We all help & support one another and enjoy the camaraderie, tea & cakes.
The fortnightly meetings are great fun and most productive as we share what's worked/not worked for us and what our goals are for the coming days.
Karen does a good job of inspiring us and finding interesting & helpful speakers for the 11 o'clock slot.
Thank you Karen! X
The support offered by the Clutter Club is great. We are not alone in the struggle to get on with the job of clearing!
So that hearing about others efforts and successes is very encouraging. Practical help and assistance is extremely valuable to us all.
Learning about planning and execution makes it possible to view our situations differently. Making new "friends" is very useful too.
Philippa from St Leonards
I wasn't sure what to expect when I telephoned and first attended the Clutter Club but I wanted to find out about it as I have gathered a lot of clutter over the years and hoped it might help me.
I found Karen, the group leader, very welcoming and encouraging and found the other members kind and friendly, making me feel no so alone in my plight.
I have enjoyed the fortnightly meetings being very interesting and helpful! Giving me an incentive to declutter and the Mayor's visit was extremely enjoyable.
I approached the Clutter Club nervously but have rapidly learnt to love and apprechiate it and enjoy meeting it's members. It ahs become a welcoming group of friends who meet in a warm and cheery setting.
Having moved to Sussex in my 70s, I had felt very cut off from old acquantances and the club seems to be making me warm and valued contacts and new friends.
So I look forward to the gatherings fortnightly and they are fun and unstressful and are proving very helpful. As I've lived my life through books and art works, my little house was hopelessly crowded and disordered by them all but now at last I have gained, the courage and impetus to try and sort and rationalise them and dispose of them usefully and find much more needed calm and serenity.
I just went along to Karen's Clutter Club programme Sept 11-Oct 23. 2018, to give her support as a Friend.
I had no idea of the impact of just being there was to have on me!
The programme was structured, which I found challenging..as I Am A Free Spirit…BUT…I found myself eagerly taking part even though I had BIG issues about De-Cluttering.
I like to call myself a Collector but the simple Truth is…I AM A HOARDER!!!
My home looked like a Charity shop with all the Clothes, DVD's, CD's, Books, Bric-a-Brac..and Furniture.
We had a deadline to meet, where we were going sell some of our items for Charity.
Panic set in..Panic Attacks, Hyperventilation etc….BUT I DID IT..Amazed myself at getting through THAT Ordeal, being able to Let Stuff Go, and Enjoyed making money for Charity.
After that I found it easier to think about De-Cluttering and found the stress levels greatly reduced. My home now has more space ( in some areas) I am still working on De-Cluttering it, bit by bit, one step at a time, Panic free.
This programme for me…was a HUGE SUCCESS.
Have done 3 weeks now at Karen's Clutter club preparing for a boot sale this weekend. Have been made to feel very welcome and listened to. Fabulous group of people to share this with. Looking forward to what we get up to next week as it's the last one of this block.
Here are the highlights of The Clutter Club's amazingly successful first project: Clutter Club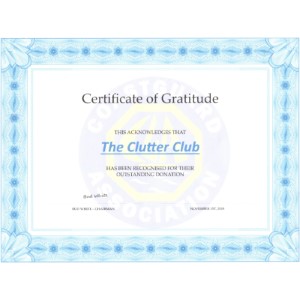 A Boot Sale at Kings Church in Hastings, where we raised money for the Coastguard Association